Business Cash Back Rewards Credit Card
All the big perks and personalized service of your hometown bank are maximized with this full-service credit card. If maximizing your cash back on purchases like gas, travel and business lunches is what you are looking for in a credit card, this is the ideal card for your business. Personalized support and l

ocal decisions from the First State Bank & Trust team you know and trust makes choosing this full-service business credit card from your hometown bank easier than ever!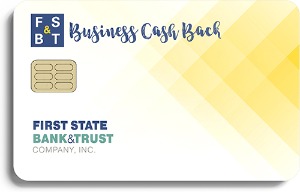 $250 Cash Back

**


0% APR FOR 6 MO. ON PURCHASES

2



0% APR FOR 6 MO. ON transferS

2
---
| $250 Cash Back | 0% APR for 6 months | No Annual Fee |
| --- | --- | --- |
| for the first $2,000 spent in the first 90 days** | on purchases and transfers2 | Earn cash back with no extra fees. |
---
✔
Cash back rewards, including:
2% back on gas/travel/restaurants
1% back on all other qualifying purchases
✔ Same-day issuance Upon Approval
✔ Commercial 360 - Manage Employee Cards
✔ EASY ACCESS THROUGH FSBT 1VIEW DIGITAL BANKING
Access & Manage your credit card account.
Set Transaction Limits

Set Alerts
Set Location Boundaries
**Introductory offers include $250 cash back for the first $2,000 spent in first 90 days. "Redemption" occurs automatically. A credit equal to the Cash Back Rewards earned during that billing cycle will be applied to each month's credit card purchase balance. The statement credit will be applied to the total balance and a minimum payment is still expected to be made each month. If a return has occurred and rewards have already been calculated and/or reported on statement credit, the return transaction will show as a negative amount within the statement credit. Rewards must be redeemed within 24 months from the time earned or they will expire. Please read the Credit Card Terms & Conditions

(Opens in a new Window)

, Credit Card Privacy Policy

(Opens in a new Window)

, and Credit Card Rewards Policy

(Opens in a new Window)

 for full disclosures.
20.00% introductory APR for 6 months. After that, your APR will vary with the market based on the Prime Rate and based on your creditworthiness. If you take advantage of a 0% Introductory or Promotional Annual Percentage Rate (APR) balance transfer offer and then you use your Account to make new purchases, you can avoid paying interest on those new Purchases if you pay each month by payment due date, the amount that equals 1) the Minimum Payment Due, plus 2) the total outstanding Purchase balance; plus 3) the total of any outstanding balance(s) that is not a 0% promotional APR, such as a cash advance, plus 4) any account fees. Please read the Credit Card Terms & Conditions

(Opens in a new Window)

 and Credit Card Privacy Policy

(Opens in a new Window)

 for full disclosures.
Card Eligibility: To be eligible for an Account, you must meet certain minimum income, residency, age, credit quality, and other requirements.
How to Avoid Paying Interest on Purchases - Your due date is at least 25 days after the close of each billing cycle. We will not charge you any interest on purchases if you pay your entire balance by the due date each month. For Credit Card Tips from the Consumer Financial Protection Bureau - To learn more about factors to consider when applying for or using a credit card, visit the website of the Consumer Financial Protection Bureau at http://www.consumerfinance.gov/learnmore