Traditional Secured Credit Card
If you need to build credit but can't get approved for an unsecured credit card, a secured credit card may be exactly what you need. Our Traditional Credit Card is the perfect credit card for building and strengthening your credit.

Local decisions and personalized support from the First State Bank & Trust team you know and trust makes choosing this secured credit card from your hometown bank easier than ever!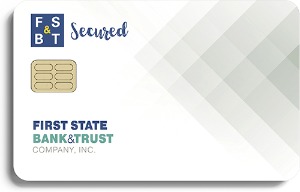 Low Annual Fee:
$25 annualLY
---
✔ Same-day issuance UPON APPROVAL
✔ Easy access through FSBT 1View Digital Banking
Access and manage your credit card account
Set Transaction Limits
Set Alerts
Set Location Boundaries
Card Eligibility: To be eligible for an Account, you must meet certain minimum income, residency, age, credit quality, and other requirements.
How to Avoid Paying Interest on Purchases - Your due date is at least 25 days after the close of each billing cycle. We will not charge you any interest on purchases if you pay your entire balance by the due date each month.
For Credit Card Tips from the Consumer Financial Protection Bureau - To learn more about factors to consider when applying for or using a credit card, visit the website of the Consumer Financial Protection Bureau at http://www.consumerfinance.gov/learnmore